Interior
The clinic is located in the top floor of a regal regimental building from the 1800's. We designed the floor plan so it would be perfect for our clinic. We believe that a calm and relaxing environment can affect you positively during your visit and treatment.
Our surveys have shown that the office design and decorations are something patients appreciate. Many note that it is far from the dismal public healthcare offices. Our patients rest in private rooms (see pictures below), not small cubicles, which are common in IVF clinics. The walls are decorated with photographs from Lasse Molin, which you see illustrate our homepage. All are associated with Carl von Linneus (in Swedish, Carl von Linné), a world renown Uppsala botanist from the 1700s. The colors and furnishings are according to Feng shui. Our interior designer, Birgitta Åstrand, is convinced the interior design increases our treatment results. Perhaps she's right.
When one of our clinic's doctors visited a Japanese clinic, the director said they play classical music for the embryos. We haven't gone that far. But our patients can listen to Mozart if they wish when we take out the eggs and when the embryo is transfered. And, if they want, when they rest in one of the rooms below.
At our clinic, everyone is given a single room. This is Gullvivan, one of them.
There are more pictures of our interior below.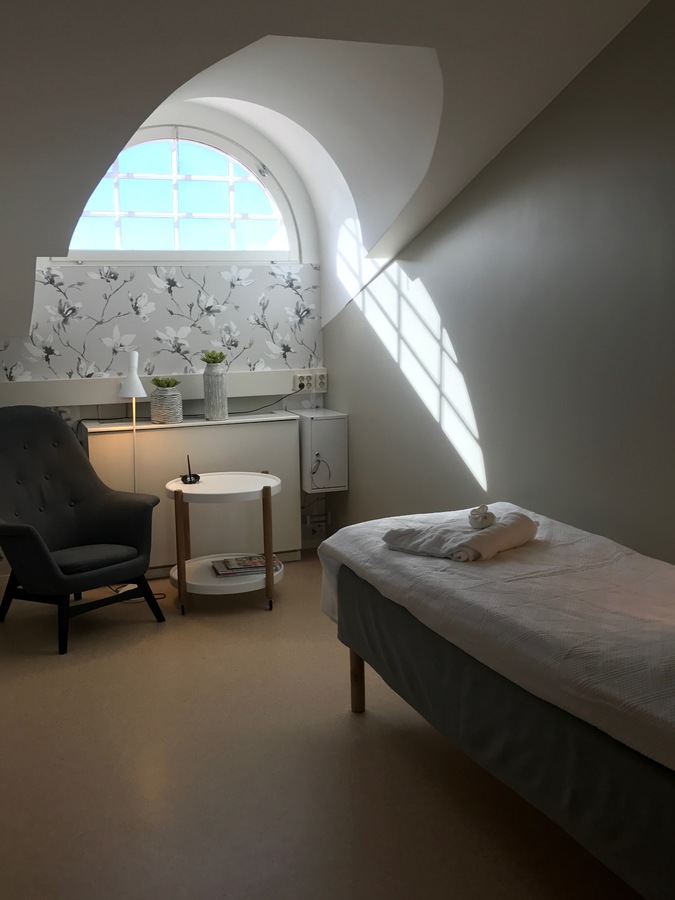 Gullvivan, one of our single rooms (new March 2017)
Wi-Fi
We offer complementary Wi-Fi for our visitors. The password is available at the reception desk.